Slique Gum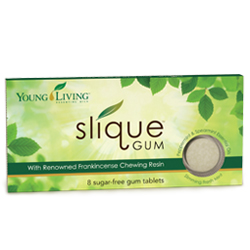 About the Product
Ancient travelers throughout the Middle East used raw frankincense resin for its nutritional content and ability to help control hunger. Slique™ Gum offers those same benefits in a modern delivery system that helps control food cravings and improve oral health. Click here to learn more about how you can try one of our Slique collections with the no-risk Slique in 60 program!
Price
Retail: $10.53
Wholesale: $8.00
YL Product #: 4579
Ingredients
Frankincense Resin (Boswellia frereana), Gumbase, Isomalt, Sorbitol, Natural Flavors, Calcium Stearate, Natural Sweeteners, Colors (Red Cabbage Juice, Turmeric,), Slimming Fresh Mint Essential Oil Blend: (Peppermint (Mentha Piperita) Oil, Spearmint (Mentha Spicata) Leaf Oil], Xylitol
Why pay retail?
Save up to 24% with Wholesale Pricing!
Did you know you could save up to a whopping 24% on your purchase by becoming a Young Living Member?
What does it mean to be a member? Well, it doesn't mean you are committing to purchase month after month after month. It doesn't mean you are now a salesperson with a quota. What a membership does mean is that you have the ability to purchase a great set of starter oils and you get to make all future purchases at a great discount! It also means that once you fall in love with Young Living products, like I did, you will have the option to tell others about them AND receive a commission check on their purchases!
Ready to sign up? Need to learn more? Click below! Want to just purchase retail for now? No problem! There's an option for that below too!